Denver International Airport Terminal Map - DEN Map
Find your way around DEN Airport. Our interactive layout maps cover everything from roads and car parks to shops, stations and departure gates. Find your way around the airport, whether you're looking for car parks, terminal information and facilities, or directions between the different terminals.
You can find your terminal, travel between terminals or find facilities and services at the airport – whatever you're looking for, this section aims to help you find it.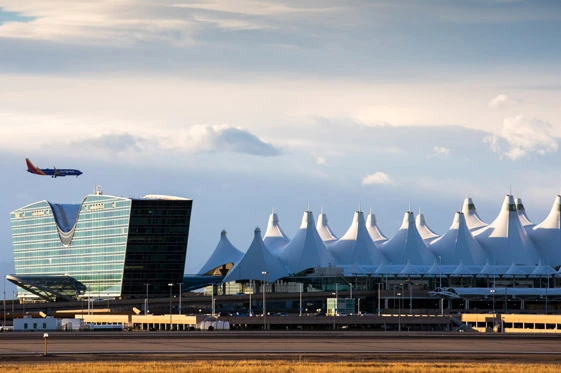 Denver Airport Layout
Denver Airport Location
Denver Airport is Located on the western edge of the Great Plains 25 miles northeast of downtown Denver.
Denver International airport Address
8500 Peña Blvd, Denver, CO 80249, USA
How to Reach Denver Airport
Public transportation which is one of the cheapest way to reach Denver Airport, operated by the RTD which is also known as Regional Transportation District. Transit time: ~40 minutes to an hour. Cost: $10.50 for a day pass.
Ride-share Uber and Lyft are two ride share apps which operate at Denver Airport. Transit time: ~40 minutes to an hour. Cost: $25 to $40.
Taxi Pickup and drop-off location of Taxi is from Jeppesen Terminal, Level 5, Island 1, outside doors 505, 507 and 511 (east side), and doors 506, 510 and 512 (west side). Transit time: ~40 minutes to an hour. Cost: $29 to $89.
Car service Black-car service like GroundLink or Blacklane. Location to this car serice is same as Taxi Service.Transit time: ~40 minutes to an hour. Cost: ~$100.
DIA Map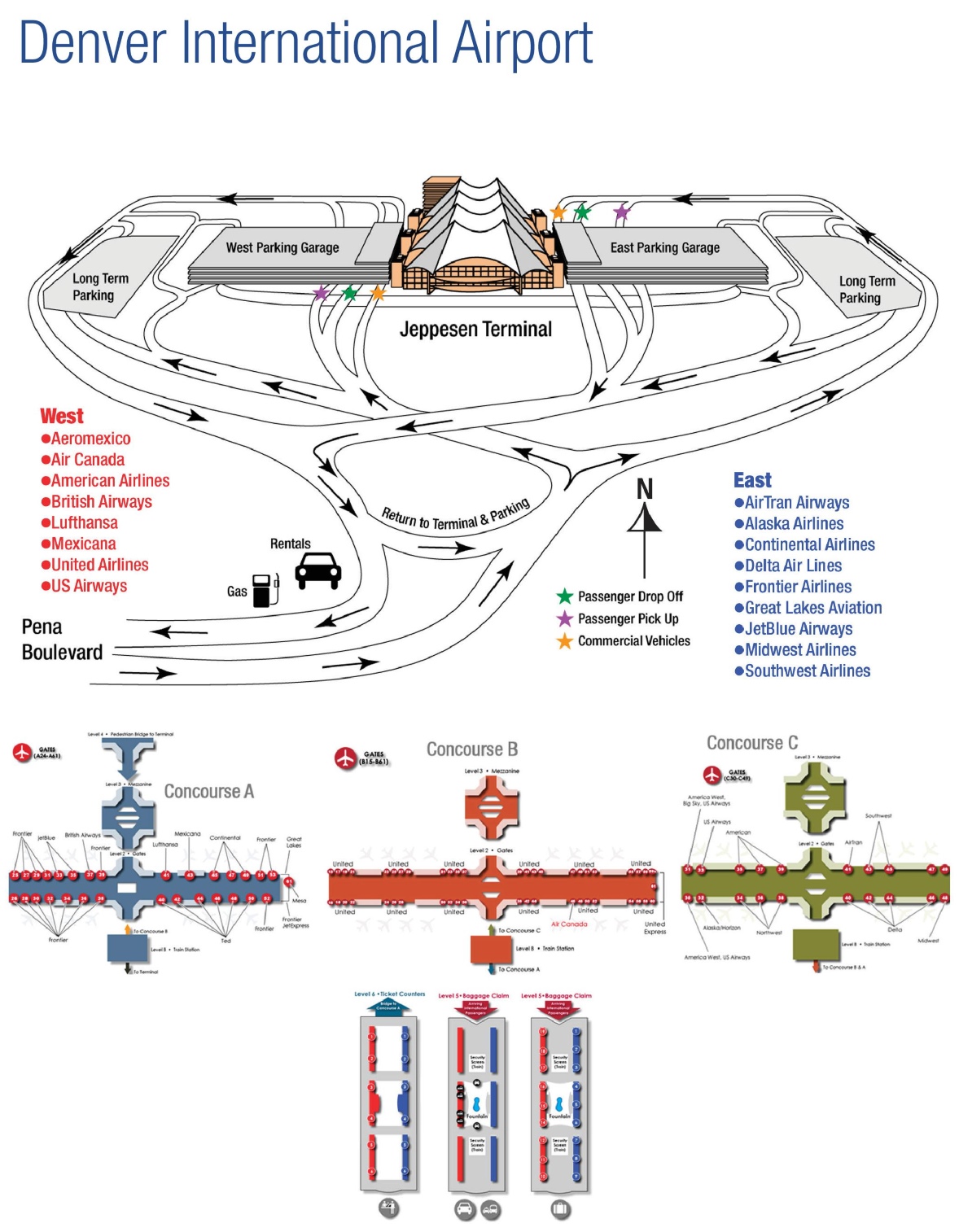 Denver Airport Terminal Map
Terminal East
Air France
Alaska Airlines
Allegiant Air
American Airlines
Boutique Air
Denver Air Connection
Frontier Airlines
JetBlue Airways
Southern Airways Express
Southwest Airlines
Sun Country Airlines
Volaris
WestJet
Terminal West
Aeromexico
Air Canada
British Airways
Cayman Airways
Copa Airlines
Delta Air Lines
Edelweiss Air
Icelandair
Lufthansa
Spirit Airlines
United Airlines
Denver Airport Airline Map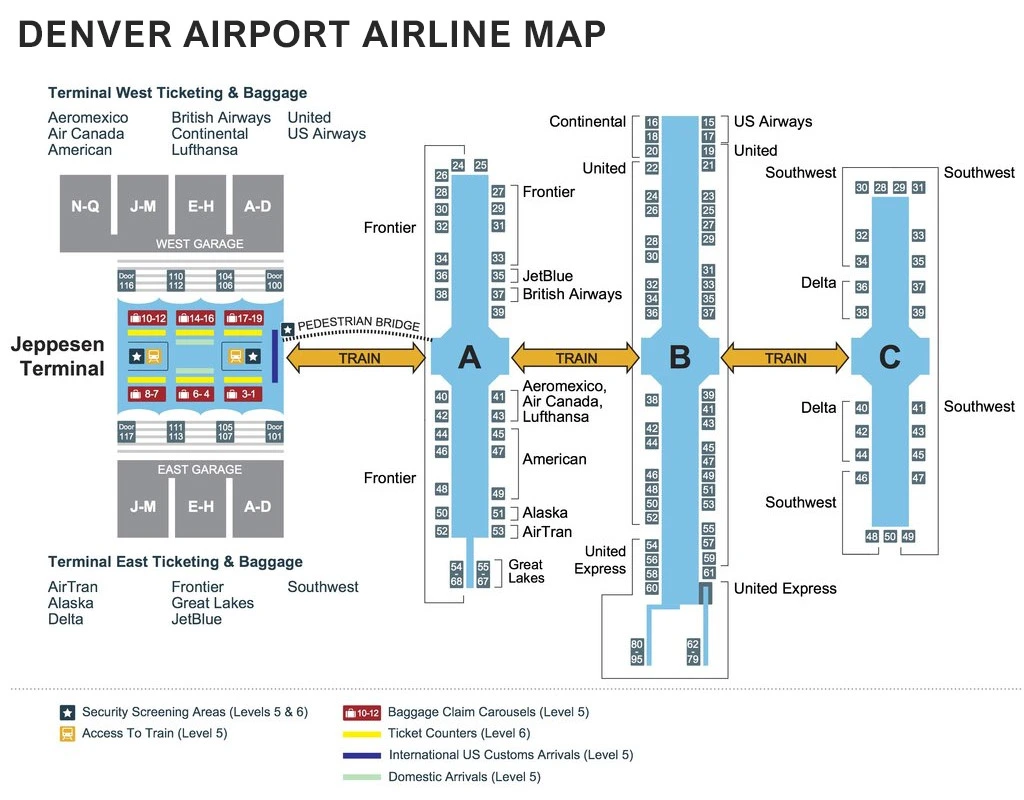 DEN Airport Map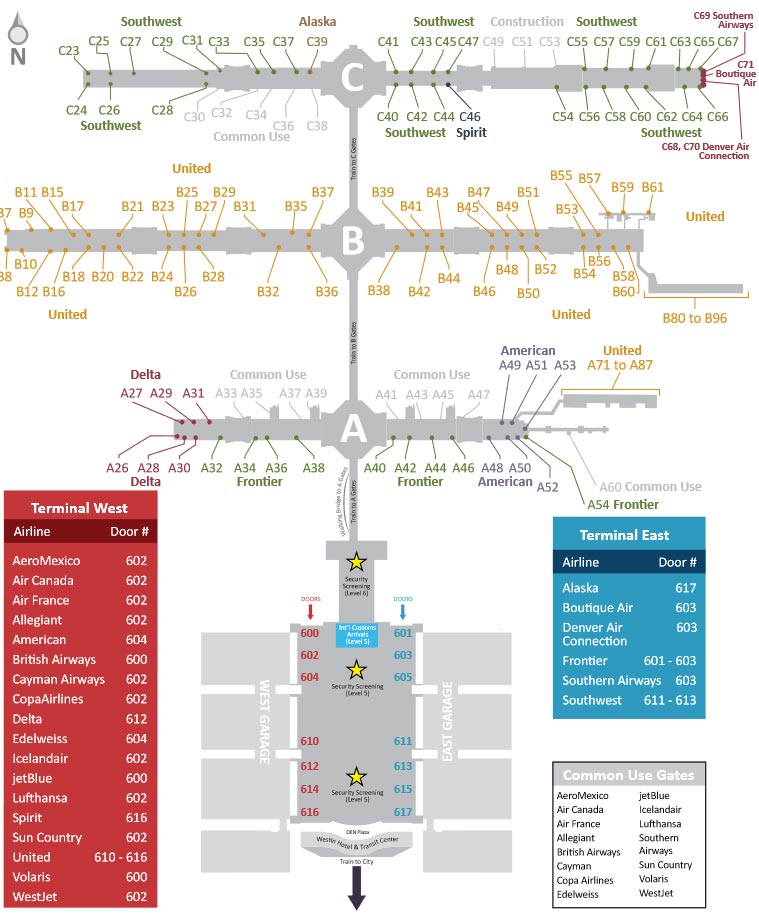 Denver Airport Terminal A Map

Denver Airport Terminal B Map

Denver Airport Terminal C Map

Denver Airport Parking Map
Parking your vehicles at DEN parking lots is completely safe and secure as all the parking spaces are under 24/7 video surveillance. Check the list of some of the popular parking lots at Denver International Airport.
Cheapest Parking at DIA
61st and Peña Parking Rates: $7/day | $5/12 hours | Pre-Pay ONLY!
Driving Directions Map
Long Term Parking at DIA
Garage - $28/day
Economy - $17/day
Shuttle - $8/day
Valet - $35/day
Short Term - $144/day
61st & Pena - $6/day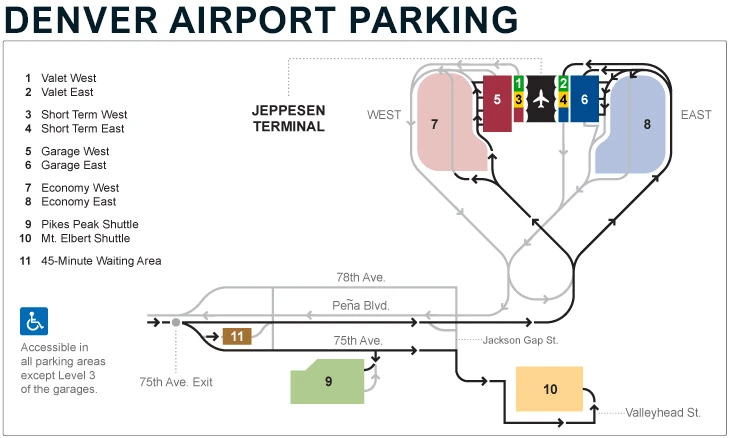 Denver Airport Food Map
Check restaurant that match to your taste, Navigate on our restaurant page to check Address, Timing and What they Serves. Denver Airport Restaurants.
Denver Terminal Map