How to Reach Denver International Airport
Denver Airport: The Best Way to get to the Airport
Transportation Options from Denver International Airport
Denver Airport is the largest airport in North America as per land area and the third busiest airport in the world (as per 2021 data) serving around 60 million passengers every year. The airport is the main center for both Frontier and United Airlines and the largest operating base for Southwest Airlines.
Denver International Airport (DEN, locally referred to as DIA) is located 40 km from Denver Downtown. That might sound far, however, there are many easy and inexpensive options to reach the airport, including public transportation, ride-share, taxi, and car rental services.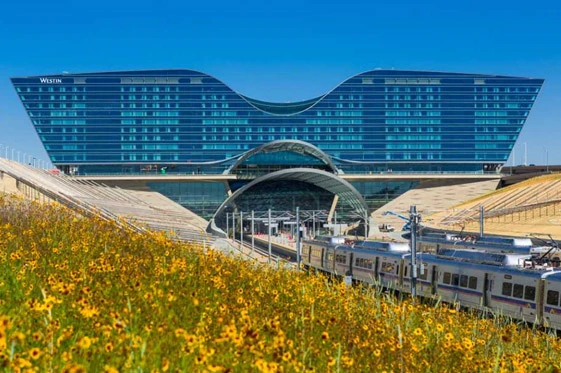 Let's have a detailed look at all of the options to find the easiest way to reach Denver airport: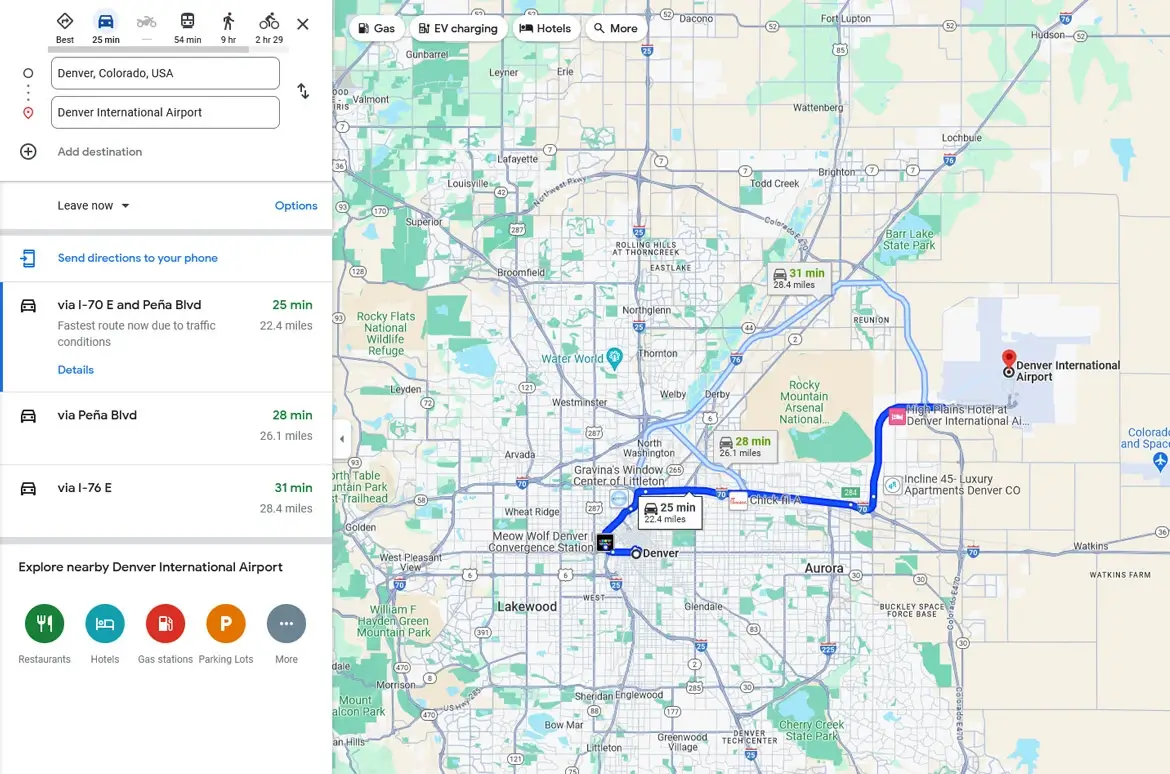 DEN Transit Center/Denver Airport Station Public Transportation
The easiest way to reach Denver airport is through the A Line commuter train, a public transportation facility operated by the Regional Transportation District. The distance between DEN to downtown's Denver Union Station is 23 miles. The train usually runs every 15 minutes during the daytime and every 30 minutes from 6:30 pm to 1 a.m. and 3 a.m. to 5 a.m. The train ride takes approximately DEN to downtown Denver in just 37 minutes via the A Line commuter train. Airport fare is $10.50 per day from any of the stations along the A Line and includes unlimited rides on the A Line during a single business day.
There are a total of eight stations along the A Line
Denver International Airport
61st and Peña Boulevard
40th Avenue and Airport Boulevard
Peoria
Central Park
40th and Colorado Boulevard
38th and Blake Street
Denver Union Station
Shared-Ride Services
Another affordable option to get to the airport is by taking shared cab services. The ride-sharing applications that operate at Denver International Airport are Lyft and Uber. Both Uber and Lyft pick up and drop off passengers on Jeppesen Terminal Level 5. Standard prices for these rides typically cost between $35 and $ 40. However, passengers can certainly bring these prices down by opting for a shared cab but can expect such trips to take longer than the usual time.
Taxi Services
Taxi offer flat rates ranging from $29 to $ 89 to Denver Downtown and other nearby areas. The rates are usually inclusive of the airport access fee. Whereas, prices to all other locations are metered and subject to an additional $5 airport access fee. A taxi pick up and drop off at Jeppesen Terminal are available at Level 5, Island 1, and outside doors 506, 510, and 512 (west wing) and doors 505, 507, and 511 (east wing). Taxi rides usually take 40 to reach Denver Airport from central downtown.
One-way Flat Rate Charges From Denver Airport

| Location | Rate |
| --- | --- |
| Downtown Denver (Zone A) | $71.03 |
| Denver Tech. Center (Zone B) | $79.03 |
| Boulder (Zone C) | $114.03 |
| Tower Road (Zone D) | $36.03 |
Metered Taxicab Rates
Metered Taxicab fare would be around $75 to $95, plus $5.03 airport access fee for each metered taxi trip.
| Taxicab Operator | Phone Number |
| --- | --- |
| 5280 Taxi | Call (720) 435-1235 |
| All Cities Taxi | Call (720) 440-7000 |
| Alpine Taxi Inc. | Call (720) 484-4474 |
| Darfur Taxi Company, LLC | Call (720) 628-3419 |
| Denver Taxi Inc. | Call (720) 300-3085 |
| Green Taxi Cooperative | Call (303) 806-8888 |
| Metro Taxi / Taxi Fiesta | Call (303) 333-3333 |
| Trans Voyage Taxi | Call 303-353-4482 |
| Union Taxi Cooperative | Call (303) 922-2222 |
Car Rental Service
If you prefer comfort and money is not an issue for you, then it is best to hire a car. Pre-booked car rental services are great for families as they offer car seats for children and you can even travel with your pet hassle-free.
If the traveler opts for a meet and greets service, then the driver will wait for them with a sign at the arrivals area and will also help them with their luggage. Standard prices for car rental services typically cost around $100 and take 40 minutes to get to the airport.
Conclusion
There is no shortage of ways to get to and from Denver International Airport, however, you might want to plan ahead consider weather and traffic conditions. Though public modes of transportation are easy and affordable, but considering how much luggage you carry, it could make more sense to pick one of the exclusive options.