Immigration Procedure at DEN Airport
USA Airport Customs and Immigration
Denver International Airport is proud to be the gateway to Denver, Colorado, for International travelers. With the association between Denver's Department of Aviation and The U.S. Customs and Border Protection, it aims to implement a simplified arrival process at Denver International Airport. The airport also provides translation services (in more than 240 languages) for the convenience of international arrivals.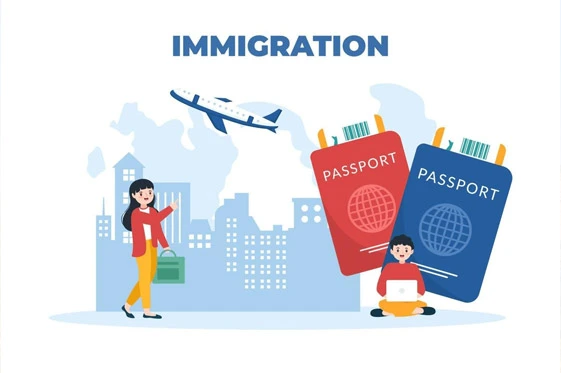 International Arrivals
Passengers coming to Denver Airport from another country, who have not cleared U.S. Customs and Border Protection will arrive through A Gates. Upon disembarking from the plane, such immigrants will be directed to the U.S. Customs and Border Protection, located on the terminal premises, for passports and document verification.
U.S. Customs and Border Protection
Customs and Border Protection (CBP) officers will verify your passport and other documents. Travelers can collect their luggage and exit the inspection area by submitting a CBP form. For detailed information regarding immigration and customs and visa requirements, get in touch with the consulate, which relates to your destination.
You can also contact The U.S. Customs and Border Protection by calling (303) 342-7400. For more information, visit www.cbp.gov.
Fill out the blue form or customs form to enter the United States
Once you get off the plane (and before picking up your bags) you must go through immigration, where they take your fingerprints, take a photo of you with the blemishes from the flight and ask you some questions before putting the stamp on your passport to be sure that you are good people and you can enter the US.
It is a procedure that a million people carry out daily and generally quickly, it is not a third degree or anything similar. Don't get nervous, even if you don't speak English, nothing happens.
At which time you must deliver to the customs officer the blue form or customs form to enter the United States, which they have given you on the plane.
What do we do with the blue form or customs form and how is it filled out?
It is a customs form where you must include all your personal information, that of the flight (number and company) in which you enter the country, the purpose of your trip and if you have anything to declare.
Among other things, they ask you if you have come on vacation with more than USD 10,000 in cash, if you are bringing food, animals (also wild, more specifically to differentiate between whether you are bringing a cat or a cougar) or insects (literally everything).
Keep in mind that a blue form is filled out per family, not per person.
How to pass immigration control and questions at United States customs
When you arrive in the United States you have to go through Immigration and Customs Control. If it is the first time (First Time ESTA), they indicate perfectly where you have to stand as soon as you get off the plane. Look at the signs that there is no loss.
Two lines are formed, one for foreigners and one for American citizens. Depending on the arrival time of the flight and the airport, you may spend a significant amount of time waiting, so it is important to take this into account in case of connection with other flights.
The procedure can last at least 45 minutes from when you leave the plane.
As everything is modernized, before going through the immigration and customs agent, you have some ATM-style machines (and here, we risk it so that you have everything clear. We took the photo, which clearly stated that it is not possible…) where, following the instructions on the screen, you scan the passport (only the page with your data, not all the pages of the passport), they collect your fingerprints and you take a photo (with flash and everything) so that you are fully registered in the immigration database.
Once you have followed all the steps, the machine prints a ticket with your photo and all your data. The ticket may or may not be crossed out with a cross, but we do not know what the reason is for it to come out one way or another. It was crossed out for us and we entered without problems, so if you see that it happens to you too, don't panic.
You may also see agents with dogs that are sniffing all the carry-on bags. Top security.
Even if you process it through the machine , you still have to go through the control with the immigration and customs agent. We do not understand very well the previous process of the machine, if in the end everyone goes through the same process with the agent, but hey, its the one you must have.
They will take your fingerprints again, in addition to asking several questions at US customs such as: how long do you plan to stay, what places are you going to visit, who are you traveling with, what is your job or where do you work in your country, how much money counts for your stay or if you come from a country with a health risk. In addition to the typical security questions of whether you have food, alcohol or tobacco in your bags.
Keep in mind that: maximum of 1 liter of alcohol and 100 cigars or 200 cigarettes can be brought into the United States. If this amount is exceeded, taxes would have to be paid.
Once you are registered and you have answered the questions of the immigration and customs officer, he will be the one who decides if you can enter the country (yes!) and will return the documentation with the passport stamped with the maximum day of legal stay in the US.
There is the option of being "invited" to go to a room for an Immigration officer to carry out additional verifications, but the truth is that since we have never been given the case, we cannot tell you about it.
After immigration, welcome friends, all that remains is to collect your bags and enjoy the trip!!!