Denver Airport Lost and Found
Find your missing belongings at Denver Airport.
Denver Airport - Lost & Found Location
Items found at the Denver airport premises (including TSA security checkpoints, restrooms, shuttles, parking lots, and other public areas) are taken to the airport's Lost and Found facility, located in Jeppesen terminal. Individuals seeking their lost item can file a claim online (or by visiting Denver airport's official website) mode at no cost.
In case you have lost your item on an airplane or within airline property, such as the ticket counter, gate area, or checked luggage, then you can contact the airline directly through their helpline numbers or website.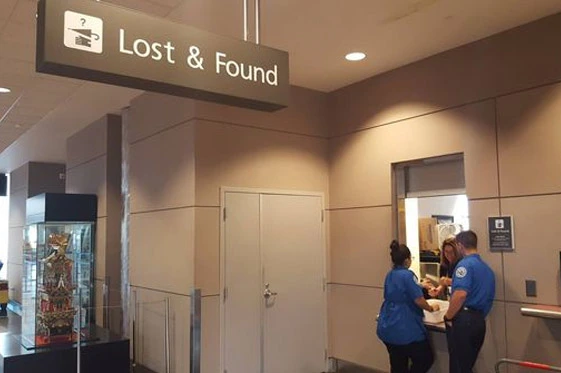 How Does lost and Found Works at Airport
Denver International Airport's Lost and Found department offers a wide range of services for lost and misplaced items. Located in the Jeppesen Terminal, it is open from 8am to 8pm daily and provides a 24-hour hotline for visitors to call with any questions. The Lost and Found department is staffed by knowledgeable and helpful employees who will do their best to reunite travelers with their items. They can assist passengers with filling out the necessary forms, which include providing detailed descriptions of items, contact information, and a photo if available.
Furthermore, DIA Lost and Found offers an online inquiry system which allows customers to track their lost items, as well as a web page where all lost items can be viewed on a daily basis. Customers can also email the department at any time to inquire about the status of their lost items. With this array of services, Denver International Airport's Lost and Found department is the perfect place to go if you have misplaced an item while traveling.
Denver Airport Lost & Found Office Location
Lost & Found Address
Located at Jeppesen Terminal, Level 1, near doors 111-113 (on the east side)
How to reach Lost and Found Area
Individuals driving to the airport can park their vehicle on the east side of the Jeppesen terminal and follow signboards to the Lost and Found facility.
Individuals, already inside the Denver airport at level 5 can find luggage carousels 6 and 7. Take an elevator to level 1 to reach the Lost & Found office.
Denver airport Lost and Found Hours of Operation
Hours of Operation

| Day | Timing |
| --- | --- |
| Mon-Fri | 8 a.m. to 7:30 p.m |
| Saturday and Sunday | 8 a.m. to 6 p.m |
Denver airport baggage claim phone number - Lost & Found
(303) 342- 4062
(Note: Phone lines close 30 minutes before the closing time)
Denver Airport Lost & Found Auction
The Denver International Airport (DIA) Lost and Found Auctions offer a great opportunity for travelers looking to get a good deal on lost items left behind in the airport. The auctions are held twice a year and feature items such as jewelry, electronics, clothing, luggage, and much more that have been turned in to the Lost and Found Office. All items are sold as-is, meaning you could end up with a great bargain or a dud.
The auctions are open to the public and free to attend, so you don't have to worry about paying admission fees or bidding fees. You can even try your luck at online bidding if you can't make it in person. The proceeds from these auctions are used to help pay for the costs of operating the Lost and Found Office, so your purchases are also helping to benefit the airport.